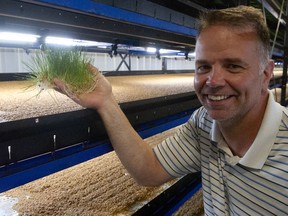 Article content
With robotic milking machines and automated calf-feeding systems, Bill Vanderkooi's Abbotsford dairy farm has been one of B.C.'s early adopters of agricultural technology.
Article content
The second-generation dairy farmer said last year's heat dome and atmospheric river flooding was a wake-up call for farmers to embrace agritech as a way to produce the food British Columbia needs in the face of the disruptions brought by climate change.
That means farmers could be swapping boots for lab coats to boost crops and improve B.C.'s food security, Innovation Minister Ravi Kahlon said ahead of his announcement Thursday about more funding for agritech education.
Kahlon is announcing today that a new centre for agritech innovation will open at Simon Fraser University's Surrey campus in September and will focus on developing and testing agritech innovations in both simulated environments and on the farm.
Article content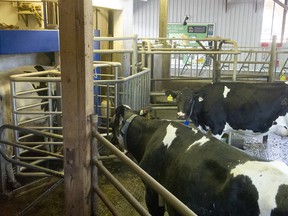 The excitement around the burgeoning industry, Kahlon said, is enticing people working for Microsoft and Google to take jobs in high-tech farming.
"For a long time, people used to have a vision of somebody with a straw hat and now people producing our foods are wearing lab coats and wearing protective glasses," Kahlon told Postmedia News ahead of the news conference at Vanderkooi's farm, Bakerview EcoDairy. "So the whole food production system is changing."
Vanderkooi, 53, is less a farmer and more a scientist, with a master's degree in animal science from Michigan State University. The newest innovation adopted by his farm is a HydroGreen feed grower which allows him to produce 50 acres worth of grass feed vertically in a 2,000-square-foot space.
Article content
While the technology he's embraced results in lower labour costs, the costly upfront investment can be prohibitive for some farmers.
That's why, he said, the new centre could provide the funding needed for other farmers to buy the technology and improve their efficiency.
Vanderkooi's farm was one of the many farms in the Sumas Prairie hit by last November's atmospheric river, which caused billions of dollars in damage, washed away away roads, bridges and homes, and caused the evacuation of 14,000 people, hundreds of whom are still displaced.
"What we've experienced in terms of climate change, the floods, the heat dome, there's just been so many challenges. Technological innovation is one of the solutions that I think can help us be better prepared and be able to sustain farming and agriculture."
Article content
The centre, funded by $6.5 million over three years from the province and $10 million over five years from the federal government, has already begun taking applications from agritech operators across B.C.
The centre, Kahlon said, will create economic opportunities for Indigenous peoples and help farmers with small and medium-size businesses scale up, increase profits and create jobs.
In speaking with farmers across the province, Kahlon has heard about the uncertainty created by climate change, and how a summer that's too hot, winter that's too cold or fall that's too wet can be the difference between profit or loss.
That's why it's crucial, he said, that farmers be given the opportunity to use innovation and technology to increase their crop yield, produce food in a way that gives off fewer greenhouse gases and grow, all year round in B.C., food typically found in warmer climates.
Article content
Lenore Newman, who holds a Canada Research Chair in food security and environment at the University of the Fraser Valley, said B.C. is way behind the booming agritech sectors in the Netherlands, Singapore and California.
"If we're going to have food security in B.C. we have to produce food in the province year round using technology," said Newman, who was part of the province's food security task force launched in July 2019. "It's a race and we still have quite a ways to go."
Newman said the funding for the new agritech innovation centre "is a seed" that could boost the food industry and a "signal from this government that it's a priority for them."