Jellyfin review: With this live TV DVR, you get what you pay for
At a glance
Expert's Rating
Pros
Cheap, or maybe even free
Records both over-the-air and online M3U playlist sources
Nifty playback speed controls
Cons
Difficult setup with little guidance
Ugly apps with inconsistent features
Technical glitches abound
Our Verdict
Open-source enthusiasts may appreciate this over-the-air DVR service, but most other users should stay away.
Price When Reviewed
Free, open source software
Best Prices Today: Jellyfin
As an over-the-air DVR solution, Jellyfin appeals to a highly specific class of cord-cutter.
With enough technical know-how, you can install a whole-home DVR for your TV antenna with low or no subscription fees. Jellyfin can also record certain free streaming video sources, and it can host other video files, such as ripped DVDs or PlayOn recordings, all at no cost. You can then stream that content to your phone, computer, and connected TV devices.
But Jellyfin won't be worth the trouble for most people. Its interface is crude, the setup is a hassle, and the software is filled with little glitches and feature omissions that add up to a lot of frustration. Some open-source software enthusiasts might find these trade-offs acceptable, but other DIYers should look to more polished solutions such as Plex DVR or Channels DVR instead.
This review is part of TechHive's in-depth coverage of the best DVRs for cord-cutters.
Some assembly required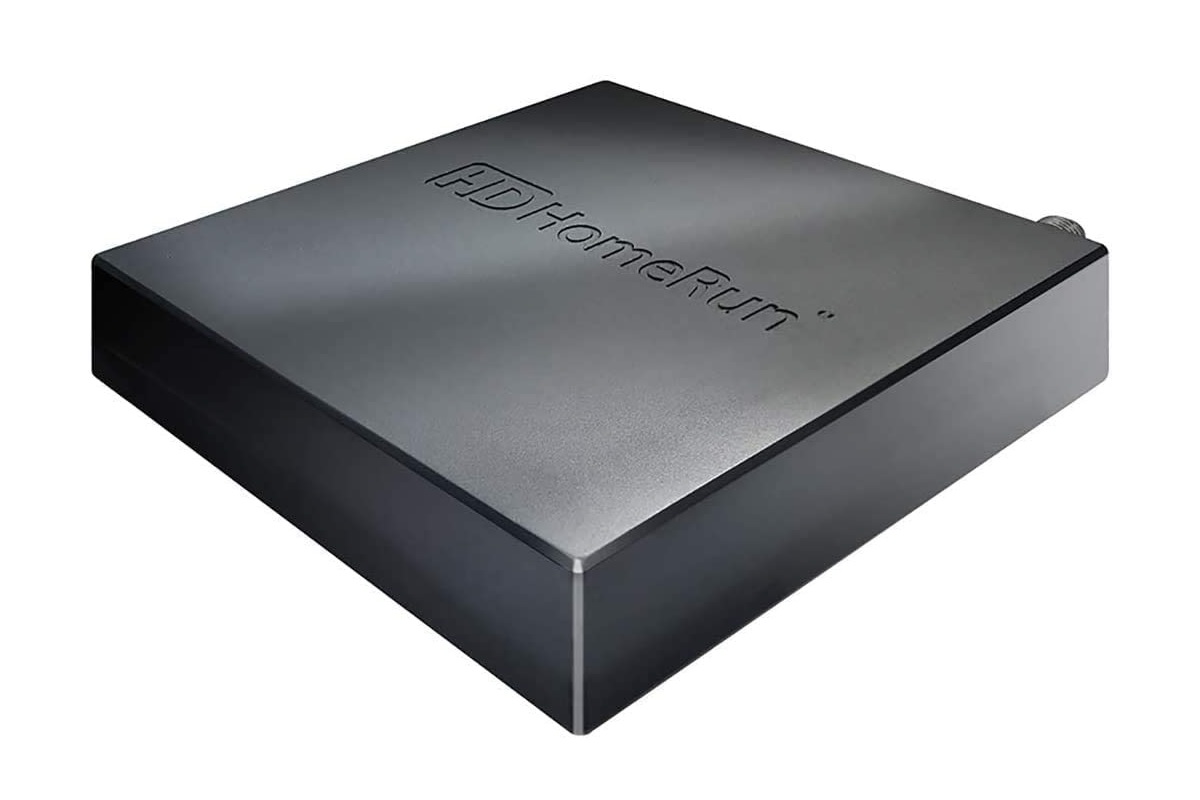 SiliconDust
To be clear, this review will focus on Jellyfin's DVR features rather than its broader media server capabilities. But like any media server software , it does require putting together some pieces.
For starters, you need a Windows, Mac, or Linux computer—ideally a desktop that's always on—to run the server software, with ample storage for recordings. (I suggest at least 500GB.)
For tuner support, Jellyfin works with SiliconDust's HDHomeRun to capture over-the-air broadcasts from an antenna, and this tuner must be hardwired to your home router. SiliconDust's tuners start at $110 for a dual-tuner model and scale up to $200 for four tuners with ATSC 3.0 support. Unlike Plex, Jellyfin does not support any USB or PCI tuners.
The last piece to consider is TV guide data, as Jellyfin doesn't provide any on its own. You can either subscribe to Schedules Direct for $25 per year, or try to compile your own data in the XMLTV format. The latter requires routinely running a command line or Python script on your computer, setting up a PHP file on a web server, or tinkering with Docker containers, all based on instructions from random online hobbyists. If you can hack it together, you'll get guide data for free.
Setting up Jellyfin
Jared Newman / Foundry
Once you've put the pieces together, you can then install the media server software on your computer and load the web interface, either by clicking a link in Jellyfin's taskbar icon or visiting localhost:8096 in a web browser.
From here you can create a login and specify the folders in which Jellyfin should store your TV and movie files. If you have any existing media files in those folders already, Jellyfin will make them available in your library.
You can then use Jellyfin's dashboard to set up the live TV service, which detects your HDHomeRun tuner and lets you plug in TV guide data. Like Channels DVR, Jellyfin can also pull in online video sources in the M3U format, allowing intrepid users to record from free streaming services such as Pluto TV along with more legally-dubious IPTV sources.
Jared Newman / Foundry
Jellyfin offers little hand-holding through any of this. Live TV setup, for instance, resides behind a separate dashboard menu and isn't part of the standard installation process, and Jellyfin has no built-in way to procure guide data. There's also no guidance on setting up out-of-home streaming, which I've repeatedly failed to get working. All of which reinforces that this is a solution for tech-savvy users rather than beginners.
Time to start streaming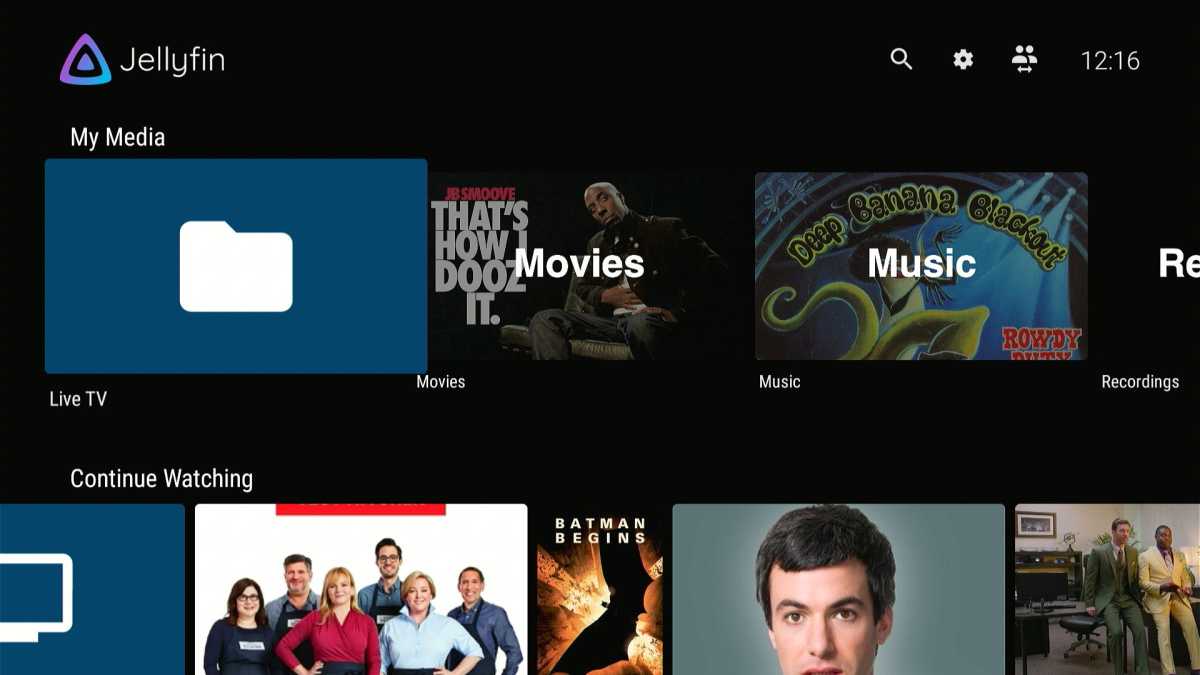 Jared Newman / Foundry
After getting everything set up, you can use Jellyfin to stream content onto other devices around the house. Jellyfin offers client apps for Roku, Fire TV, Android TV, Apple TV, LG WebOS, Windows, Mac, Linux, iOS, and Android. For devices on the same network, Jellyfin will automatically discover the service so you can connect and log in.
But once you actually have Jellyfin up and running, the problems start piling up.
Jared Newman / Foundry
For one thing, the experience is wildly inconsistent across devices. Jellyfin on Fire TV and Android TV looks different from Jellyfin on Roku and Apple TV, and features can vary from one to the next. Both the Roku and Apple TV apps lack a proper grid guide and schedule view, for instance, and they don't support recording a live channel from the playback screen.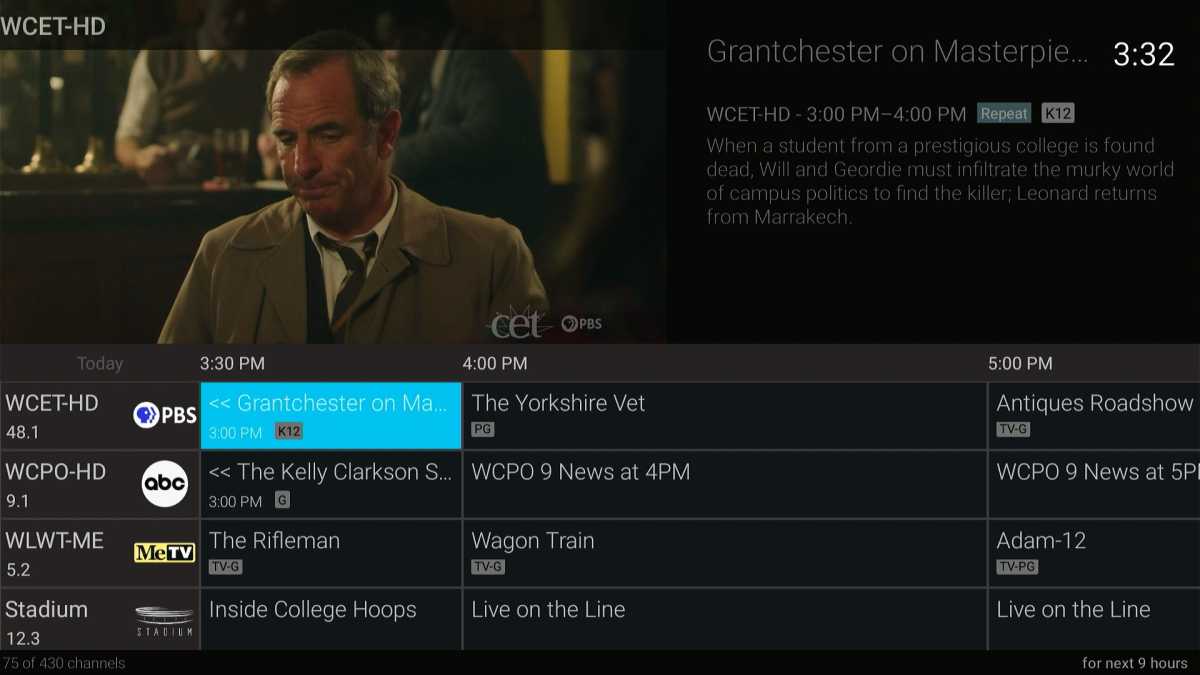 Jared Newman / Foundry
Regardless of platform, Jellyfin is also just behind other over-the-air DVRs in terms of features. The DVR doesn't highlight potential tuner conflicts, for example, and while the grid guide lets you filter channels by genre, you can't mark channels as favorites without using the HDHomeRun website. There's no built-in ad-skipping either; Jellyfin's documentation merely suggests messing around with Python scripts using code from a random Reddit thread.
The live TV experience is also awash in technical glitches. App crashes were common in my experience, as was a failure to load promo art for over-the-air channels. At one point, Jellyfin's Apple TV app—whose live TV features are marked as "experimental"—failed to free up an over-the-air tuner when I closed the app, leading to cryptic errors on other devices. On Fire TV, the grid guide is ill-equipped for handling lots of channels, requiring you to click a "Load Channels null-null" button as you scroll through, and when you load a channel, you must click the play button a second time to begin playback.
Jared Newman / Foundry
Jellyfin does have some useful features. You can control playback speed on Fire TV and Android TV, for instance, and on those devices you can also browse the full grid guide while watching live TV channels. And while the Roku app isn't as full-featured, it does have the ability to search through the live guide with voice commands.
Jared Newman / Foundry
Jellyfin also offers some granular recording controls: You can set start and stop buffer times, limit recordings to a specific channel, and control how many recent episodes of a show to keep. But again, some of these features are only available via Jellyfin's web app.
All this suggests that Jellyfin is still geared for general media server use. By comparison, the live TV component feels like either an afterthought or an extremely rough work in progress.
So who's it for?
The flip side to all these gripes is that Jellyfin might ultimately cost you nothing more than what it takes to pull together the hardware it takes to run the media server. If you can figure out the XML guide data setup or are just using it to capture .M3U playlist sources, Jellyfin is completely free. Once you have your recordings, browsing your library and playing videos works fine.
But if you value polished software and consistent experiences across platforms, or you just don't want to deal with a litany of setup headaches and technical glitches, strongly consider paying for your DIY DVR setup instead. Channels DVR is an excellent solution for $8 per month or $80 per year (including guide data), and Plex DVR is a solid alternative with a $120 lifetime service option. Both are easier to set up and use, have slicker software, and make it easier to skip through commercials. If you're not up for building a media server, Tablo or AirTV will give you an over-the-air DVR with even fewer setup hassles.
While it's nice to have a free, open-source over-the-air DVR as a counter to proprietary media server software, Jellyfin has a long way to go before it's a truly competitive solution.