Sony finally unveils its 2023 TV and soundbar lineup
In a break with tradition, Sony didn't reveal any information about its 2023 TV lineup at CES in January. But the company is ready to spill the beans now. Well, most of the beans—we're still waiting to hear how much these five new TV series and one new soundbar will cost.
This news story is part of TechHive's in-depth coverage of the best smart TVs.
Sony announced one new quantum-dot OLED (the A95L series, pictured above) in its top-of-the-line Master Series, one WRGB OLED TV (the A80L series), two new mini-LED SKUs (the X95L- and X93L series), and one full-array LED backlight model (the X90L series). The manufacturer says it's carrying over several models from its 2022 lineup: The OLED A90K series and mini-LED Z9K series will stay in its Master Series lineup, while the X80K- and X85K series of direct LED backlight TVs will continue to be offered as entry-level sets.
Sony touts image processor improvements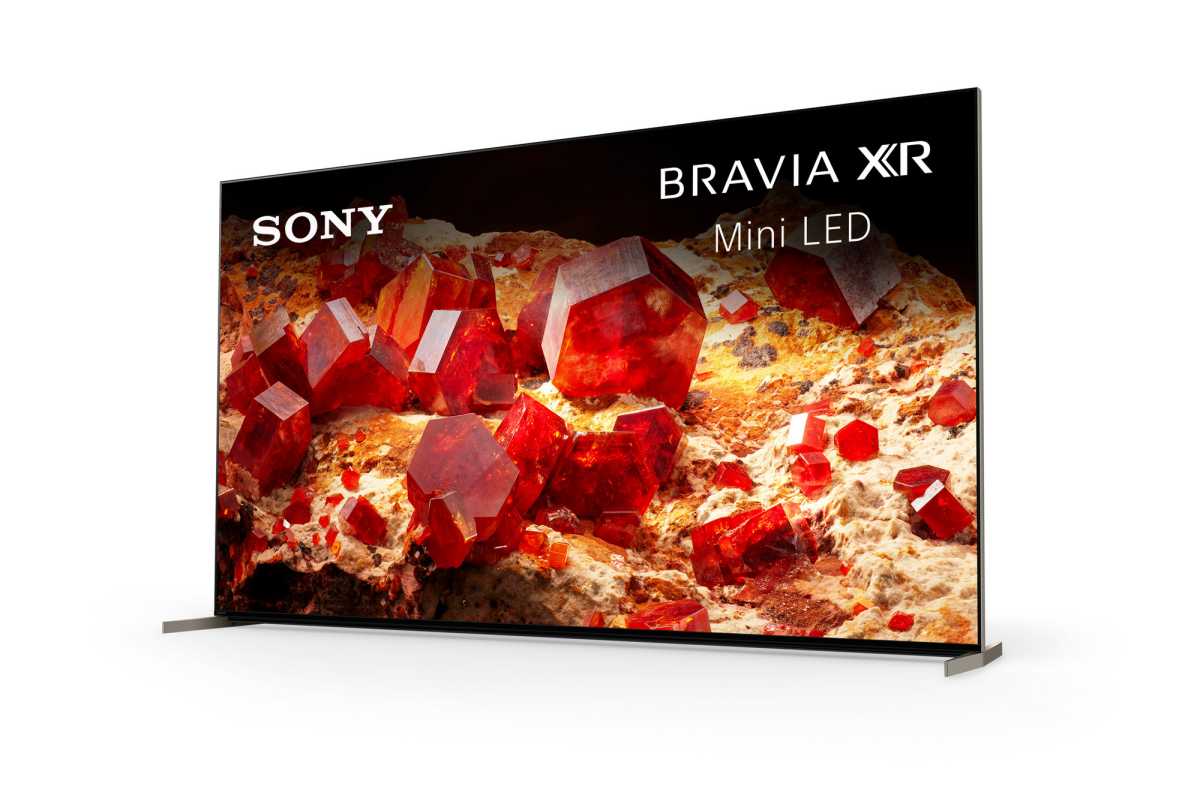 Sony
Sony says it's using a higher-performance version of its Cognitive Processor XR in most of its higher-end TVs (the A95L-, X95L-, X90L-, and A80L series—but not the X93L series) to deliver a higher-quality image with less visual noise, no matter the source: Online streaming, cable/satellite TV, over-the-air, or disc (Blu-ray, DVD, etc.). The company says its new processor delivers up to a 200 percent increase in peak brightness and a wider color gamut on its new A95L-series QD-OLED TVs. The A95L series should also benefit from a heat diffusion sheet that's designed to transfer heat away from the OLED panel, which promises to reduce the risk of burn-in and increase the panel's longevity. The A80L WRGB OLED, meanwhile, is said to be 10 percent brighter than last year's model.
Improvements to the image processor enabled Sony to increase the number of local dimming zones in the mini-LED X95L series while gaining more granular backlight control to decrease blooming (aka light bleed or the halo effect, when an area of the screen that's supposed to be black is lit up by an isolated object in the scene that's brighter than the background). The mini-LED X90L series gained the same benefits in addition to an overall increase in brightness.
The Sony TV/PlayStation connection
Considering Sony also manufactures one of the top three gaming consoles, the PlayStation 5, it comes as no surprise that the company would look to achieve a degree of symbiosis between the two products. Sony tells us the PS5 recognizes the capabilities of whichever Sony TV it's connected to, and that both pieces of hardware will adjust their settings accordingly, so that the TV is always in the right picture mode, using the correct HDR tone mapping, and so on.
A new game menu in these 2023 TVs lets you make a number of additional tweaks. A "black equalizer" feature, for instance, lets you adjust the lighting to reveal objects or areas of the game that might otherwise be in shadow. You can overlay six types of crosshairs onto the screen to assist your aim, turn the TV's variable refresh rate on and off, and adjust the amount of motion blur reduction. And you can proportionally customize the size of the game as it appears on the TV screen, to help you focus on the game's action. What's more, you can watch—and control—YouTube videos in a separate window to help solve a puzzle or find strategies to defeat a game boss. This YouTube picture-and-picture mode also works with any other HDMI input or the TV's over-the-air broadcast tuner.
Sony's 2023 soundbar lineup and TV audio features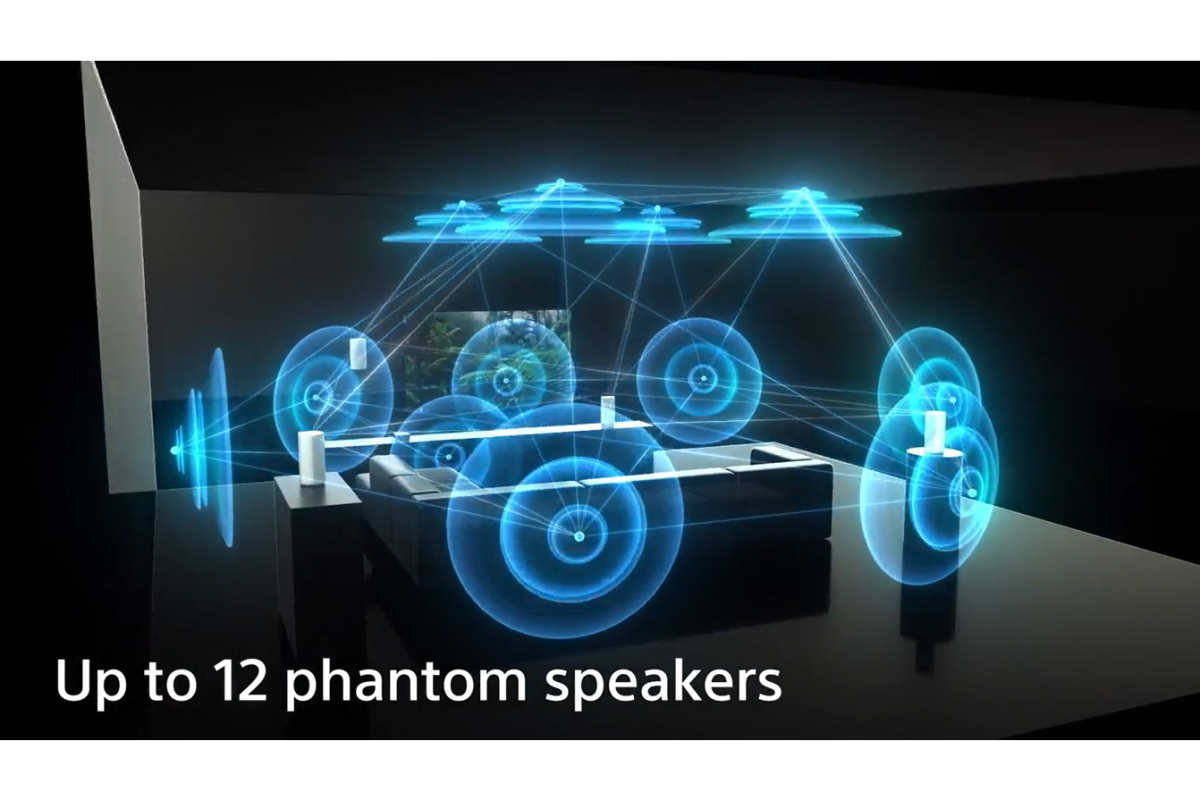 Sony
Sony announced one new model in its soundbar lineup today: The $500 HT-2000, a 3.1 Dolby Atmos and DTS:X speaker that Sony says can also up-mix stereo content to produce a three-dimensional surround experience. The HT-2000 will produce the left, right, and center channels in movie and TV soundtracks, and it has an onboard subwoofer for low-frequency effects. Users looking for deeper bass response can pair the HT-2000 with Sony's SA-SW5 or SA-SW3 wireless subwoofer. Adding Sony's SA-RS3S rear surround speakers will further enhance audience immersion.
Way back in 2017, Sony pulled off the neat trick of turning the OLED panel in its Bravia XBR-A1E into a speaker. The company has been building on that tech ever since, and its Sony A95L and A80L OLED TVs feature the latest version, dubbed Acoustic Surface Audio+. Sony's X95L mini-LED series introduces a new twist: a "frame tweeter" that vibrates the TV's frame to raise its sound position to better match the image on its screen.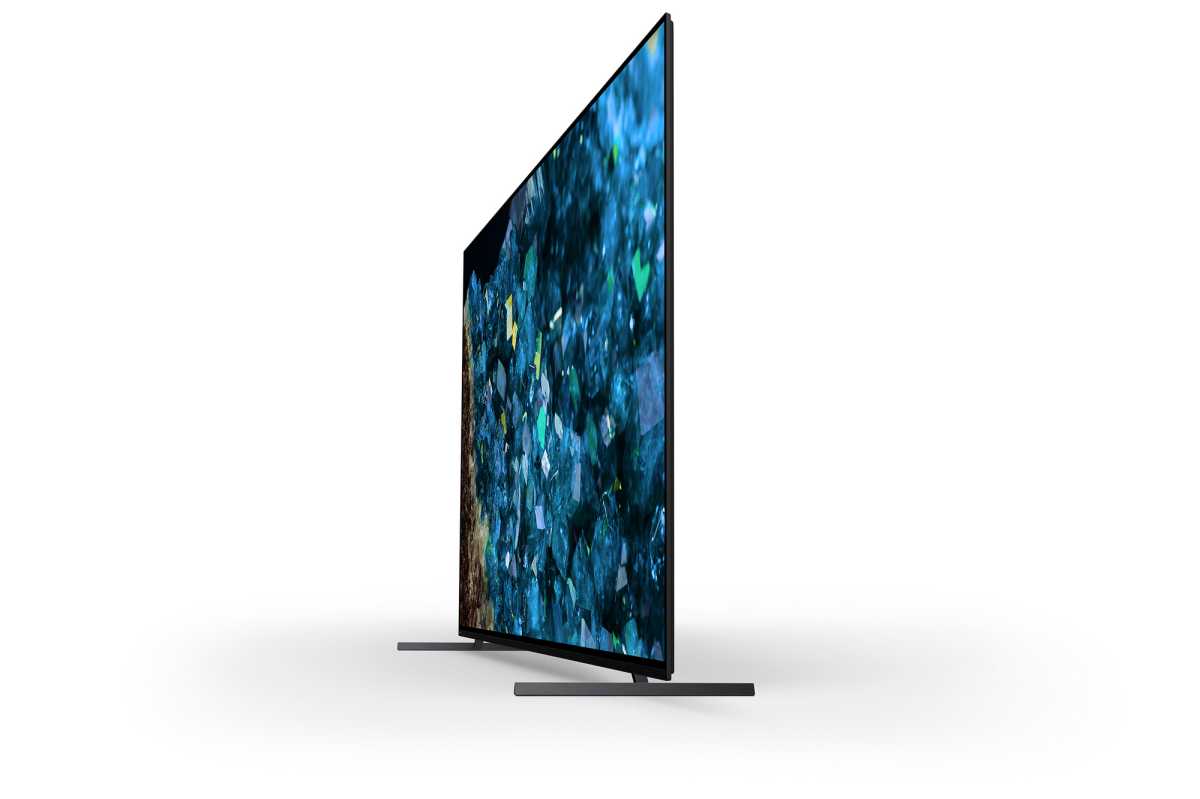 Sony
Sony, like other TV manufacturers that also build soundbars, has been looking to tie the two product categories together. The promise is that buying a TV and speakers that are designed to work together is the best way to match your audio and visual experiences. Sony touts a feature it calls Acoustic Center Sync that promises to improve center channel audio performance by synchronizing the TV's onboard speakers with one of its own soundbars or surround-sound systems.
Sony's 360 Spatial Sound Mapping, meanwhile, generates phantom speakers to increase the viewer's sense of immersion in what's playing on the screen. These features are available on all five of the TVs announced today; Sony's HT-A7000, HT-A5000, and HT-3000 soundbars (the new HT-A2000 soundbar does not support Acoustic Center Sync); and the excellent HT-A9 Home Theater System we reviewed in late 2021. 360 Spatial Sound Mapping is also supported by the rear-channel speakers that can supplement its soundbars: the SA-RS5 and the SA-RS3S.
Screen sizes for Sony's 2023 TV lineup
Sony's A95L QD-OLED will be offered in 55-, 65-, and 77-inch screen sizes. The A80L WRGB OLED will come in 55-, 65-, 77-, and 83-inch dimensions. The X95L mini-LED will be only available as an 85-inch model, but you can pick up the X93L in your choice of 65-, 75-, or 85-inch SKUs. If you're looking for a larger TV, Sony will sell its X90L full-array-backlight TV in 55-, 65-, 65-, 85- and 98-inch configurations.